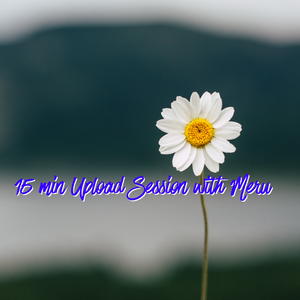 15 Min Upload Session with Meru
Regular price $75.00 Sale
If you need a quick chat, clarity or deep dive in a particular area of your chart or life with Meru, then this is a grate opportunity to do so with a 15 min live session direct with her.
For best results have your questions and intentions for the reading clear before you arrive and be mindful of how much you are giving verses receiving since our time is shorter. 
This is grate for follow up's to previous readings or clarity from something you heard in one of Meru's video's on Sun Soul TV or Sun Soul Astrology on YouTube. Also a great clarifier for your Starseed PDF's that you have ordered as a stand alone.
Scheduling is limited to Wednesdays ONLY from 1pm-7pm (Las Vegas/Pacific) PST 3pm-10pm EST London/Sweden/Germany 9pm-3am, Australia Thursdays 6am-12pm ACT. Once you have purchased your consultation you will immediately be given access to Meru's calendar to book your day and time. All times and dates will be displayed in your current time zone (at time of booking).
You will meet with Meru live on Zoom video chat and your time will be recorded. After your meeting you will receive a direct download link via email that will remain on the cloud for 90 days before it auto deletes. Your invitation to meet on Zoom is all you need to download the app and get set up. If you need to meet by telephone only, just let us know and we will send you a phone number to call in to and still have the recording of your session

The link to book your time will be sent in the confirmation of purchase email. Your Zoom invitation will be automatically sent so be sure to confirm your email address is correct when scheduling. You will be able to reschedule your own appointment from the confirmation email and please be sure to do so at least 24/hours in advance. NO REFUNDS for missed appointments, time will be deducted for late arrivals. Store credit towards a future reading for pre reading cancellations only.
***Please be advised that this is a private and confidential service and all information shall remain between you, the client and Meru Matu only. Once you receive your video download link of your consultation, PDF or pre-recorded reading, under no circumstances is permission given to share with friends, family or otherwise through email or posting online. As with all alternative information in general, there should be discernment in who and what you share with others. If you are excited about your consultation, do your best to communicate that without passing along the video. It is equally important that Meru Matu's personalized readings and private information is not shared, as it is for your information to stay private. Violation of this policy will result in no longer receiving services from Sun Soul Astrology, Meru Matu and Sun Soul TV.