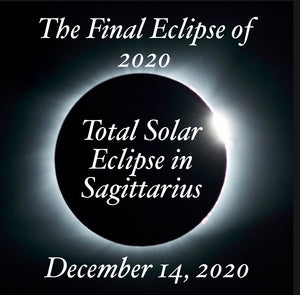 SALE ENDS FRIDAY DECEMBER 4, 2020 AT 11:59PM PST Total Solar Eclipse in Sagittarius December 14, 2020 Reading Special ONLY 20 AVAILABLE!!!
Regular price $150.00 Sale
ONLY 20 SLOTS AVAILABLE TO BOOK BEFORE ITS SOLD OUT!!!
The 6th and final Eclipse of the year happens on December 14, 2020 at 8:16 AM PST. This Total Solar Eclipse in Sagittarius at 23° is conjunct Fixed Stars in both the Draco and Ophiucus Constellations. Our last Total Solar Eclipse was December 26, 2019 at 10° of Capricorn.
What powerful activations will take place in your chart durning this powerful event? What major transformations and lessons are being signaled for your personally through this massive Sagittarius conjunction with Mercury and the South Node opposite the North Node in Gemini, that is sure bring our beliefs straight to the surface in regards to our past and our destiny. This Eclipse squares Neptune causing mass confusion in the population but also bring clarity to where you may have been under a spell. We will look at where your passions and direction will get a massive boost with the trine to Mars in Aries. Find out what this eclipse means for you personally!!!
This reading will be a 30 min recorded video in regards to which house this is occurring in either your Natal or your Progressed Chart. Please choose in the pull down menu which chart you would like to have read. There is a option for both charts if you are an astrology enthusiast and want the whole entire in-depth scoop. In addition to which house this Eclipse will be occurring in, I will go into the aspects it is making to your planetary placements and what it all means for you.
In addition to your 30 min video you will receive a 30+min video with all the general collective energies of the eclipse and a PDF that includes your chart/charts and aspects of this eclipse.
This special is available Now through December 4, 2020 and for the first 20 people only to purchase. Your video will be recorded and delivered to your email in the order received and by November 30th. You will receive a download link to your reading via your email address associated with your order in which you will have 90 days to download and keep your reading before it will auto delete from the cloud. Please provide your birth details in the next page under "NOTES". I will need your information as follows:

Day of Birth
Month of Birth (Written month not number)
Year of Birth
City of Birth
State of Birth
Country of Birth if outside the US
Time of Birth including AM or PM
***DO NOT BOOK READING THROUGH CALENDAR LINK AS THIS IS NOT A IN PERSON READING.
NO REFUNDS!!! Store credit towards a future reading for pre recorded reading cancellations only. No revisions for incorrect birth details so please double check the information entered. 
If you forget to add your birth details to this order please email them to sunsoulastrology@gmail.com ASAP.