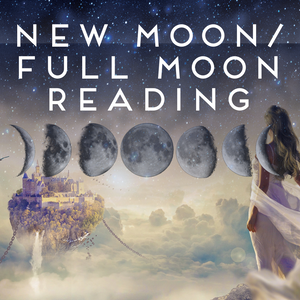 New Moon/ Full Moon Reading
Regular price $150.00 Sale
This reading is a 30 minute recorded video sent to you via email within 30 days of order or before depending on the New Moon or Full Moon including Eclipses you choose. Below is a list of all you can choose from to have your Natal Chart, Progressed Chart or both read for.
The video you receive will be the in-depth information you need about exactly how the New/Full Moon is going to be effecting you. You will see the Lunar/Solar chart overlaid on top of your choice of charts and learn what the direct aspects and house activations mean for you personally. 
This is a great reading to get when you want to check in with the themes you are experiencing at the time or to confirm goals, intuitions and plans. Make sure to book durning your birthday month for your own New Moon cycle in addition to any other cycle you feel is impacting you directly.
Please select which charts you would like to have read in the pull down menu for Natal, Progressed or both and then on the purchase page please enter which New Moon or Full Moon you would like to have read. In addition to that please add your month/day/year/city/state/country/time including AM or PM of your birth in the section labeled *NOTES. If you forget this part please email this info to sunsoulastrology@gmail.com ASAP.
Save $50-$100 by choosing both a New and Full Moon Reading available in the pull down menu.
Once your reading is complete you will receive a video download link in which you will have 90 days to download and keep for yourself before it auto deletes from the cloud. You will also receive a order completion confirmation email.
DO NOT SCHEDULE A APPOINTMENT! THIS IS NOT A LIVE READING!
NO REFUNDS. Store credit towards a future reading for pre reading cancellations only. NO CORRECTIONS for incorrect birth information.

Feb 8/9, 2020 Full Moon in Leo at 20 degrees 
Feb 23, 2020 New Moon in Pisces at 4 degrees
March 9, 2020 Full Moon in Virgo at 19 degrees
March 24, 2020 New Moon in Aries at 4 degrees
April 7, 2020 Full Moon in Libra at 18 degrees
April 22, 2020 New Moon in Taurus at 3 degrees
May 7, 2020 Full Moon in Scorpio at 17 degrees
May 22, 2020 New Moon in Gemini at 2 degrees
June 5, 2020 Full Moon in Sagittarius at 15 degrees (Penumbral Lunar Eclipse)
June 20/21, 2020 New Moon in Cancer Solar Annular Eclipse at 0 degrees (First Cancer New Moon)
July 4/5, 2020 Full Moon in Capricorn Penumbral Lunar Eclipse at 13 degrees 
July 20, 2020 New Moon in Cancer at 28 degrees (2nd Cancer New Moon)
August 3, 2020 Full Moon in Aquarius at 11 degrees
August 18, 2020 New Moon in Leo at 28 degrees
September 1, 2020 Full Moon in Pisces at 10 degrees
September 17, 2020 New Moon in Virgo at 25 degrees
October 1, 2020 Full Moon in Aries at 9 degrees
October 16, 2020 New Moon in Libra at 23 degrees
October 31, 2020 Full Moon in Taurus at 8 degrees
November 14, 2020 New Moon is Scorpio at 23 degrees
November 30, 2020 Full Moon in Gemini at 8 degrees (Penumbral Lunar Eclipse)
December 14, 2020 New Moon in Sagittarius at 23 degrees (Total Solar Eclipse)
December 29, 2020 Full Moon in Cancer at 8 degrees