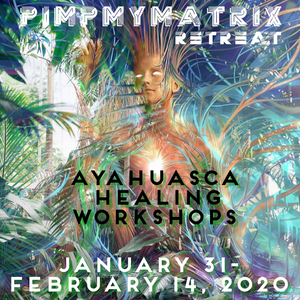 PIMPMYMATRIX Retreat
Regular price $33.33 Sale
January 31- February 14, 2020
The 2020 PIMPMYMATRIX retreat is now here! Join me Meru Matu and 13 hand selected attendees in Iquitos, Peru including David Palma for a two week intensive healing and pimping of your matrix. This retreat will be like none other ever done before. We will spend one-on-one time diving deep to get through any blockages currently holding you back from your ultimate self and two focused group workshops per week. In addition to all of this, we will be taking a minimum of 7 Ayahuasca journeys at night. 
This retreat will be held at a complete healing center where during your days off you will receive any healing that is needed and come back a completely new being. Ayahuasca is just one of the plant medicines that will be used to bring the mind body and soul into a new level of awareness. 
Please complete the questionnaire to apply for consideration as one of the 13 selected attendees. Your application fee will go towards your overall cost of your two week journey. If selected you will be contacted for a personal interview by Meru and David, in which all additional questions will be presented and you will have an opportunity to ask any questions that you have.
Trip is all-inclusive expect for airfare. Total Retreat fee for two weeks is $2,900 minus this application fee. 
Best of wishes and looking forward to creating an experience singular to itself to experience with you!
Once you pay the application fee either here or on David Palma's website you can fill out the application form.
Click here on this text to be taken to application form now!
Special note to Mothers and Fathers!!! Please do not even consider applying for this retreat unless you are beyond set with finances, childcare and living situation. Again there are no refunds for any reason once you secure your deposit and claim your spot on the trip. Your responsibility as a parent comes first and that must all be taken care of before you open the door to this life changing experience. This is in order to continue to allow parents of children to attend these events and be considered during the application process.
***By submitting my application and being selecting I understand any and all payments including deposit made towards the retreat are final and there are no refunds. Pro rating to a future retreat will be considered and final decision will be made by retreat host.***